Wed 4 August 2021
Local News | A Culinary treat in Xativa
Xativa- a culinary delight in a city with history.
Here at Jacaranda Spain, we love to jump in the car and explore the surrounding towns and cities in the beautiful province of Valencia. A recent trip to celebrate an important birthday was to a wonderful city, 34 miles south of Valencia. Xativa is a city with a bloody history and awash with political intrigue. Located on the right bank of the River Albaida it has been the sight of many battles and sieges. Xativas darkest hour in history was in 1707. After the Battle of Almansa during the War of Succession, Philip V had the city looted, besieged and burned to the ground. The Municipal Museum in Xativa exhibits his portrait upside down as an insult for his war crimes.
The Castle of Xativa is most definitely worth a day out. Spectacularly perched on top of a magnificent mountain this strategic fortress predates the Romans and is said to be where Hannibal planned his invasion on Saguntum, for which of course, legend has it, he employed his military elephants. Although the castle has Iberian and Roman history, todays structure is mainly Islamic or Gothic in design. It was declared a Cultural Heritage Sight, and well deserved it is too. Its open to the public Tuesday- Sunday, 10am-9pm and the cost of admission is only a few euros. A guided tour is always the best way to see the castle although there is a recorded audio tour available. Book online during the pandemic restrictions.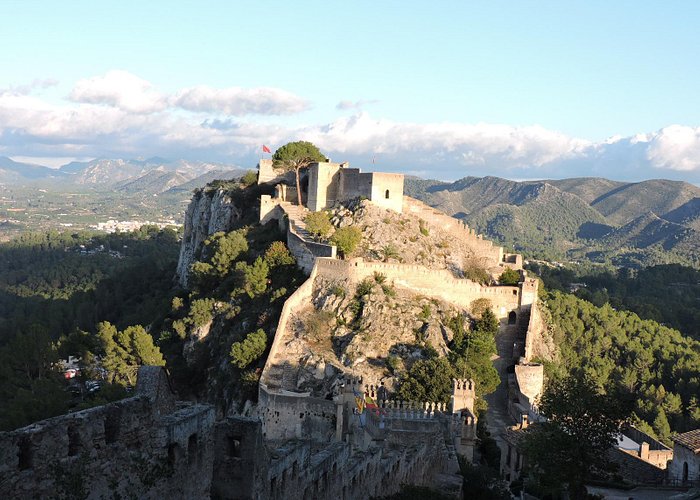 Our lunch destination was the Mont-Sant Hotel and restaurant. Mont-Sant is a boutique hotel set on the mountain below the castle. The views are outstanding, with the walls and castle above, all of Xativa laid out below and the Mediterranean sea looks only a stones throw away. The buildings are almost as historic as the castle above. Once a Royal Palace, then a Cistercian Convent, then a privately owned country house. The setting is absolutely idyllic and the surroundings have been adapted perfectly for this exclusive retreat. They have a variety of rooms and cabins, modern and elegant with an overriding feeling of tranquility and peace. Definitely a place far from the madding crowd.
We had a table outside on the terrace. Stunning setting but not our first choice in 38 degree, July heat! Thanks to Covid restrictions we were limited considering there were more than 6 of us. However, that was never going to stop us maximising our culinary experience! We started with a nice bottle of cava but water to accompany the meal, as most of us had a long drive home. Starters we ordered included prawn salad, scallops and rigatoni with mushroms and ricotta. All beautifully presented, all delicious. For mains the Iberico pork, cod, fillet steak and entrecot, all cooked to perfection and delicious. I think we all agreed however, the desserts were the icing on the cake. Passion fruit and meringue, chocolate mille feuille and the best dish of the day was the "bunyoles" (small chocolate filled doughnuts).
The service was impeccable and when we asked if we could look around, our exceptionally patient waiter Raul, went the extra mile and gave us a guided tour. The grounds are paradise, not to mention the views, which are simply awesome. We took photographs, took in those vistas and sat for a while in the shade, a little bit reluctant to leave.
Definitely not cheap, but none of us complained. Mont-Sant is a special place, for a special occasion, in an equally special location.