Tue 8 August 2023
Local News | A hidden treasure in Pedreguer- Restaurant Brou
An exraordinary eating exerience in the back streets of Pedreguer.
Always on the look out for special places to eat, we decided to follow a recommendation for a eatery in an unlikely location. Brou Bar and Restaurant is a twenty minute drive from Jalón to Pedreguer.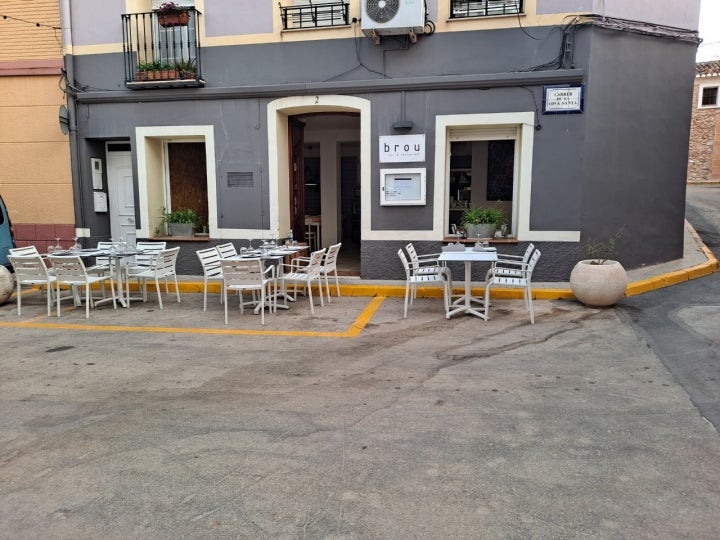 Pedreguer is a small town located here in the Marina Alta region, close to the coastal resort towns of Denia an Javea. At Jacaranda Spain, we take a pride in promoting all of the beautiful towns in the region. While we frequently promote and sell property in the countryside around Pedreguer, the majority of the town´s population are native residents. This is a community proud of it´s heritage and traditions, yet happily commited to progress, especially when it comes to the town´s gastronomy.
We often stop for breakfast in Pedreguer, after a brisk, Sunday, early morning, beach walk at Los Deveses in Denia. If you are an ex pat, living in Spain, it is tempting to look for a more commercial, English speaking cafe. We make it our mission to go to places where they speak only Spanish and serve traditional food, rather than "English breakfast" (although there are some exceptional English breakfasts, served at traditional Spanish cafés because the Spanish love it too, but that´s another blog!) Pedreguer has a plentiful variety of bars and cafés, excellent places to fill your belly and chat with locals.
While there are some excellent eateries in the Marina Alta region, it should be said that, not many would come under the "fine dining" umbrella. So forgive us for being a tad sceptical when we heard about the location for a restaurant such as this. We parked up and headed for our dining venue, which we found with relative ease, thanks to the mobile satellite navigation!
Brou Bar and Restaurant is simply decorated and unpretentious. As it was an unusually hot evening, we asked to be seated indoors with the AC!
The service was faultless. Our lovely waitress, was just the perfect combination of polite and respectful but not stuffy. As for the food, absolutely nothing disappointed. We ordered the tasting menu because we wanted to try everything. Although it was empty when we arrived, half an hour later, it was almost full and the atmosphere and ambience were lovely. There were older people, families and couples, spanish, english and dutch, a terrific mix of folks out for some great food and conversation. The staff speak perfect Castellano, Valenciano and English and nothing is too much trouble.
It kicked off with toasted bread with allioli, but not as you know it.
Each of the seven courses were perfectly balanced combinations of fresh, locally sourced produce.
A sweet tomato and sardine salad
Grilled aubergine with salted tuna (traditional way of preserving tuna by salting, curing and then sliced very thinly)
Figatell de sepia con hinojo marino (a figatell is traditionally made with pork like a sausage, this was made with cuttlefish and it came with samphire),
Bonito de atun (tuna belly steak with green beans),
Corvina con brocoli y salsa mantequilla ( corvina in butter sauce),
Solomillo de cerdo con salsa champiñones ( fillet of pork with mushroom sauce )
and finally a dessert of ice cream and berry compot, which we ate before we had a chance to take a photo!
We asked for the house white wine and we were presented with an ecologically produced local wine, which was more than adequate.
The bill was a very pleasant surprise. The tasting menu is 33 euros each and it is exceptionally good value. We recommend you book well in advance to avoid disappointment.
This lovely, local restaurant was a resounding hit with us. We liked it so much we are going back again this week.