Mon 20 March 2023
Local News | Luxury townhouse. A Spanish lifestyle in the centre of Jalón
Contemporary elegance in a traditional Spanish town.
Jacaranda Spain are proud to introduce a new property to our portfolio.
https://www.jacarandaspain.com/property/1238/townhouse-for-sale-in-jalon-1818.html
Does your wish list include the following?
A stunning, completely reformed, traditional family home with a stylish, modern interior design
Walking distance to all your everyday amenities
A great sense of community, both for native residents and ex pats
An abundance of bars and restaurants
Weekly produce and flea markets
Vast vineyards and bodegas producing local wine
Expert butchers, bakers and a fish monger selling traditional and locally sourced produce
Close proximity to some of the most picturesque, country and mountain, walking trails in the Costa Blanca region
A 20-30 minute drive to the blue flag beaches of the Costa Blanca
Times they are a-changing!
The traditional townhouse is experiencing somewhat of a revival in popularity. In previous years, the wish list would have looked different. People looking to relocate to Spain from other parts of Europe would have wanted more bedrooms and bathrooms, their own swimming pool, extra land to extend indoor and outdoor living... and the list goes on.
In recent years, priorities have changed. Post covid, people want; modern and convenient living, office space, easy maintenance outdoor areas, the choice to be car free and walk everywhere as much as possible and, most importantly, a home that does not represent a huge finacial burden for the long term. Vast outdoor spaces and swimming pools need maintaining, are costly and time consuming.
If the above wish list is just what you are looking for, a townhouse may be worth thinking about. Here at Jacaranda Spain, we like to encourage our clients to think outside the box and we love what can be done with a moderate budget and some vision.
This "new to the market" Jalón townhouse is a perfect example of what the new generation of "re-locaters" are going to be looking for in the future. Not only would you own an impressive piece of history, but it is undoubtedly a shrewd investment venture. Whats more, these townhouses are perfect for "buy to let" purposes. The Jalon Valley is highly popular with those holiday makers searching for outdoor pursuits in this stunningly beautiful part of the Marina Alta.
This superb townhouse has outside space. Big enough to dine, lounge and enjoy the views but small enough to be very easily maintained.
For those of you who would rather spend your time browsing the antiques at the weekly "Rastro", followed by a cafe con leche in the central plaza, in the shade of the historic church and bell tower, than toiling in solitude in your huge garden and cleaning your, rarely used, swimming pool.... take a closer look.
Whatsmore, the fabulous, community swimming pool is a five minute walk away from this property. Kept beautifully clean and maintained and surrounded by lawned terraces, it costs 1.50 euros for the whole day.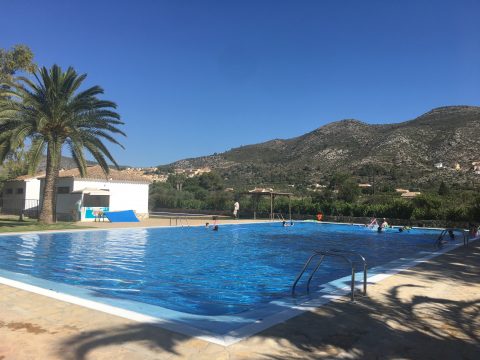 Compare that with the all year round cost of maintaining your own pool and hardly using it at all, except at the height of summer.
Food for thought?
Call to arrange a viewing on this exceptional property.https://www.jacarandaspain.com/property/1238/townhouse-for-sale-in-jalon-1818.html
We are happy to have an informal chat and help you compile a list of properties that tick your boxes!